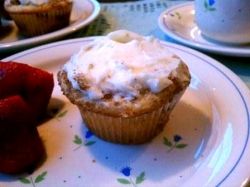 Cinnamon Coffee Cake Cupcakes aka. Breakfast Cupcakes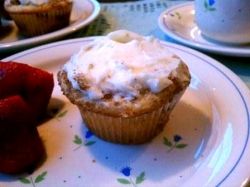 These delicious Cinnamon Coffee Cake Cupcakes aka. Breakfast Cupcakes, are perfect any time of day… They make a great brunch, or even a snack in the afternoon when you realize you FORGOT breakfast).
It happened last week, I think it was a Thursday, and things just weren't flowing the way they should. You know how there are some days that just don't work right? It's not that dreadful awful things happen… just…the rhythm of the day is off, I need to take extra steps, and everything feels sticky…For me, those days always seem to happen on a Thursday (so… I totally understand how Arthur Dent felt in the Hitchhiker's Guide to the Galaxy, even though I wasn't facing down bulldozers wanting to destroy my home, or Vogons wanting to destroy my planet…) I feel like I never managed to get out of my bathrobe.)
When this happened to me again last week, I traced the feeling to its roots… breakfast.
I missed breakfast.
Well, no wonder! I was busy making sure everyone was out the door and the dog had a walk and lunches were made and it's raining so "where- are- the- umbrellas" ? and did I sign the permission slip and where are your shoes? and what is that smell?!? (You've been there)
Best thing to do? Start over.
What kind of breakfast do you eat at 4? Something sweet, something warm, cinnamon….mmmm. But a cinnamon roll takes too long, yeast takes more time than I have patience for… What about a cupcake? hmmm… might be on to something.
Cinnamon Coffee Cake Cupcakes Recipe
Cinnamon Coffee Cake Cupcakes are the perfect snack! Breakfast and a mid-day pick me up all in one. Soft vanilla cake, with a filling of brown sugar, cinnamon and chopped pecans... then topped with more of that brown sugar cinnamon pecan mixture... then a schmear of buttery vanilla buttercream.... swoon. I feel better now.
Ingredients
CUPCAKES:

3/4 cup Butter
1 3/4 cup Granulated Sugar
2 Eggs
2 tsp Vanilla Extract
2 1/2 cup Flour
2 1/2 tsp Baking Powder
1 1/4 cup Milk (low fat is ok)
Filling
3/4 cup Brown Sugar
2 tsp Ground Cinnamon
1/3 to 1/2 cup chopped Pecans
FROSTING:

1 cup Butter
4+ cups Powdered Sugar
about 1/2 cup Heavy Cream
1 tsp Vanilla
Instructions
CUPCAKES:

Preheat oven to 350 degrees Fahrenheit
Line Cupcake pans with Cupcake liners... will make 24
Haul out your mixer... put the 3/4 cup Butter and 1 3/4 cup Granulated Sugar into the bowl... beat for 3 to 4 minutes until light and fluffy (you can use this time wisely to load up the coffee maker ...just saying, no point in putting it off )
Add the Eggs... one at a time! Beat and scrape the bowl after each egg.
Add the Vanilla Extract... beat until combined.
In a small bowl or large measuring cup, combine the flour and baking powder... just stir or whisk it up a bit. Set it by the mixer.
Get your milk measured. Set it by the mixer.
Ready?
With the mixer going... add about a third of the flour, then add half of the milk. Go slowly. (I personally get really tired of having to mop the floor every time I bake fast)
Add another third of the flour and the rest of the milk.
Beat, scrape, beat
Add the rest of the flour.
Beat until completely combined... scrape the sides and the bottom (get all the stuck bits off of the bottom!) Beat...
Done.. just leave that a minute while you get the filling together.
If your Pecans aren't chopped... chop them. I like to use an Ulu Knife for this (no point in having to haul out and then clean the food processor). You are looking for little bits... not powder! BITS. Well... unless you are trying to hide the nuts from the kids, then go ahead and pulverize away!
Mix the pecans, brown sugar and cinnamon in a bowl. Just stir it up really well.
Ok... get out your small cookie scoop (you do have one.. right? we've talked about scoops ..) (sigh.. no scoop? get a teaspoon) Put a scoop (about a rounded teaspoon) of batter in each spot. Once you have them all in, you will want to spread the batter across the bottom of the cupcake liner... here's the quick way... pick up the edge of the pan, and let it fall 3 or 4 times… bam bam bam... that should smooth it out.
Sprinkle the top of the batter blobs with around a teaspoon of the brown sugar pecan mix (just eyeball it, no one is going to test you on this).
Now add another scoop to the top of the brown sugar pecan mix. (At this point I feel I should interject something. You will have too much batter for just 24 cupcakes. Don't do what I did... Don't add the extra to all of the cupcakes. They will get tooooooooo big, and the tops might fall off. It's not the end of the world, but it is a bugger to get them out of the pan. Just let some child be extra delighted about getting to lick extra out of the bowl.)
Bake the cupcakes for 20 minutes. (stick a toothpick in to the top of one... no goo should come out on the pick)
You now have 20 minutes to clear up the kitchen, grab that cup of coffee (see, we got the machine ready for a reason) maybe sign some homework papers, tell the 12 year old it is so his turn to take out the trash, tell the 9 year old to stop teasing the 12 year old because tomorrow it's her turn......
Bing.
Put the cupcakes on a cooling rack in the pans for 2 minutes. (again, ballpark)
Take the cupcakes OUT of the pans... and set on the cooling rack until they are cool.
FROSTING:

Got the mixer out still? and you washed the bowl, right (that's what the 20 minutes was for)
Stick a cup of softened butter into the bowl, attach the whisk attachment, and turn it on.
Slowly add 1/2 of the powdered sugar, about a 1/2 cup at a time.. (slowly, we discussed the floor thing, right?)
Add 1/4cup heavy cream
Keep beating...scrape....beat
Add Vanilla Extract
Add more powdered sugar
Beat...
Scrape
Beat
Maybe add another spoon or two of cream
beat
Now...look at what you have. Touch it...is it smooth? or too stiff?
If the frosting is too soft, add more powdered sugar
If the frosting is too stiff, add more cream
Now it's time to frost the cupcakes.
I like the idea of just spreading a thick schmear of the frosting across the top... (sort of like how they frost Cinnabons) but you can pipe the frosting on to look fancy.
Eat and enjoy
Notes
note.. officially, you should wait until the cupcakes are totally cool before frosting them. HOWEVER... I think these are really good warm, and the frosting gets kind of drippy and your fingers get sticky and you get to lick them and it's soooo goood....
https://angrybakery.com/breakfast-cupcakes/
Serve Cinnamon Coffee Cake Cupcakes on these Fabulous Brunch Dish Sets!
BonJour 16-Piece  Dinnerware Fruitful Nectar Porcelain Set
Rachael Ray Dinnerware Ikat Collection 16-Piece Set, Blue
LG Stylish 16 Piece Dinnerware Set ,Clivia Miniata
&
Step By Step Instructions for Breakfast Cupcakes
Start With the Filling
Mix the Pecans with Brown Sugar (I prefer Dark..) and Cinnamon
Just stir it up… and Set Aside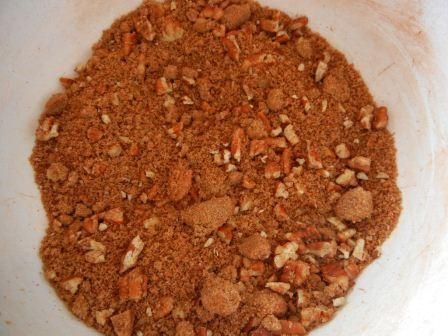 Then Make the Cupcake Batter
Once the Butter and Sugar and Eggs have been Beaten to a Light Fluffy Texture..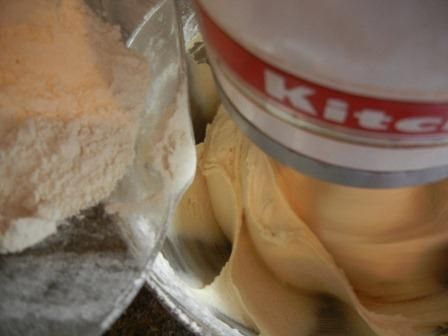 Add Flour Mixture, alternating with Milk
Use a Small Scoop (OK, yes, or a spoon) and Scoop in a Bit of Batter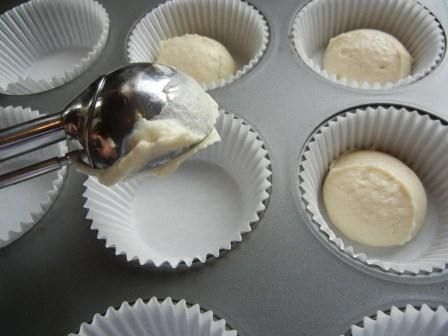 Tap the Pan against the Counter to Level it Off
Sprinkle the Brown Sugar /Pecan Mix over the Cupcake Batter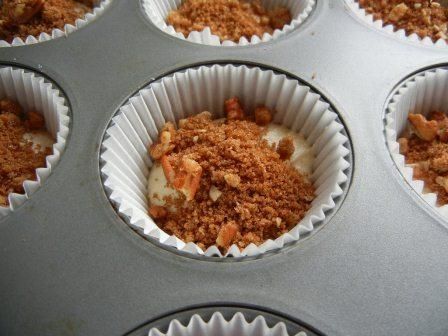 I go with a teaspoon full, but you can go with more or less
Scoop on another Scoop of Batter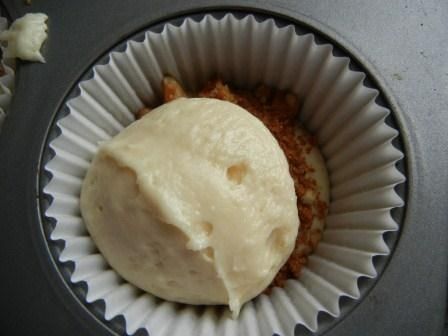 Kind of Smooth it out a bit
Sprinkle with More Brown Sugar /Pecan Mix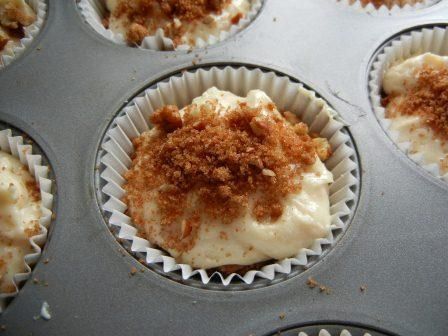 Now stick the pans in the oven
At 18 minutes, check the cakes… at 20 they should be done.
After Cooling Two Minutes in the Pan…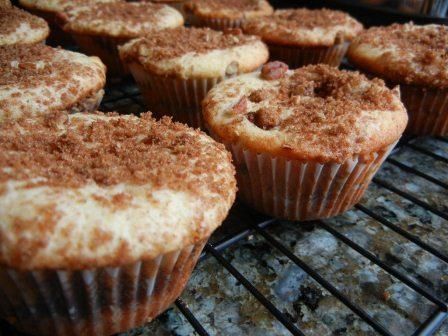 Let The Cupcakes Cool on a Rack
Make the Frosting
Whip Up the Frosting Ingredients Until it Looks Like This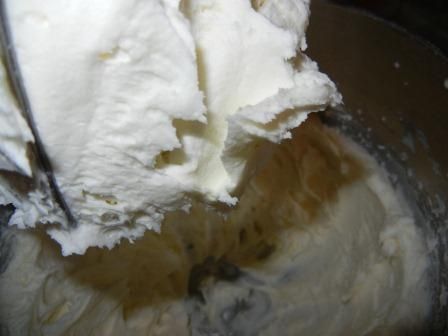 Smooth, light, but with some structure
Grab a Knife… Dip it in the Frosting, and smear it on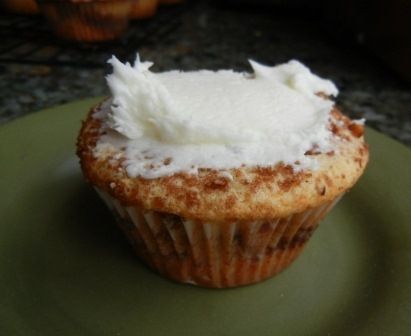 now eat (still have some coffee?)
Tiered Cupcake Servers save Space!