Peppermint Patty Brownies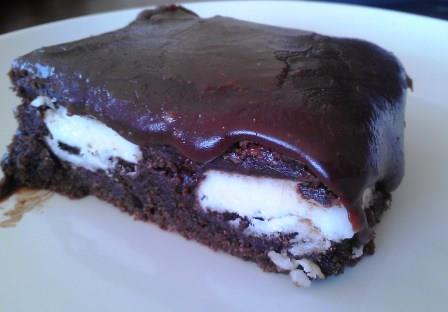 I dropped off a pan of still-warm Peppermint Patty Brownies in the teacher's lounge at school today. Turns out, teachers don't like being called "guinea pigs", they prefer the term "beta testers".
Sigh…(Like it makes a difference…) Especially when it comes to Brownies with Peppermint Patties baked inside them. Yup, rich gooey brownies covered in a fudgy icing… and when you cut them open? Surprise! A creamy minty layer! They are definitely worth a happy dance (and a few extra sit ups).
But then… I got stuck on guinea pigs, and now I've been thinking about guinea pigs all afternoon. (Does your brain ever latch on to something, and refuse to let go? Like that stupid Pina Coloada song… but I digress…). What ever happened to guinea pigs? My friends had them. They lived in the garage (the guinea pigs, not the friends) and ate carrots. You couldn't play with them … well, I couldn't, as they might bite.
I also remembered my dad telling me about being served Guinea Pig in the Amazon. (It was a little tough for him to get past the head and feet still being attached… but he muscled through it).
But that doesn't explain why we call testers " guinea pigs".
Then I had a moment of clarity.
I'm reading this absolutely hilarious book called "Stiff" by Mary Roach. It's all about cadavers, human remains and what happens to them. (That's not the funny part). Along with describing the many ways science has used no-longer-alive people for their reactions to  head on impacts and being thrown off of bridges (this is science…. ), she also tells stories about how guinea pigs are used to simulate humans in similar events (although it is tough to get a helmet on a guinea pig…they bite).
Maybe that's where they all went… to Amazonian lunch plates and Science Labs.
So… my point (and to quote Ellen) "and I do have one", is this….
When it's time to test explosives or plane crashes, we'll get the rodents…. When it's time to test brownies… we'll get teachers.
Well,  you managed to get to the end of the story. As a prize, you get to make this wonderful recipe. You can wait until they cool and can be cut into neat squares … or you can eat them warm in one big 8 inch square (might be easier with a spoon, as the goo factor is high at that point).
I found this recipe on line and played with it a bit …. Serve it with or without frosting (why would you want to eat it without frosting? Also, I'm pretty sure you can use large peppermint patty candies… maybe cut them up a bit?
Peppermint Pattie Brownies
2/3 cup Flour
½ tsp Baking Powder
6 oz. Butter (3/4 of one stick)
3 oz. Unsweetened Chocolate (3 of those squares)
1 cup Sugar
2 Eggs
1 tsp Vanilla Extract
16 small (approx.1 ½ inch) Chocolate Peppermint Patty Candies (like York Peppermint Patties)
Preheat the oven to 350 degrees Fahrenheit
Line an 8 by 8 inch pan with aluminum foil (for easy brownie removal) and spritz with non-stick spray or grease with butter.
Combine the flour and baking powder in a medium bowl… set aside.
Put the chocolate and butter into a microwave safe bowl, and melt them together… this should take about 1 ½ minutes. Stir occasionally, then set aside to cool a bit.
Combine the Sugar, Eggs and Vanilla in another bowl (or large measuring cup) and mix until smooth-ish.
Take all the peppermint patties out of their wrappers (do I REALLY need to tell you that bit?)
Now mix it up.
Pour the cooled (not cold, and it can still be warm) chocolate mixture into the egg mixture. Stir to combine completely.
Pour the new chocolate mixture into the flour mixture…. Stir until JUST combined (overstirred brownies are tough brownies)
Stop.
Spread about 2/3 of the batter into the prepared pan (no, don't measure or weigh it out… eyeball it.)
Lay the Peppermint Patties on the batter (4 by 4 works)
Carefully spread the rest of the batter over the Peppermint Patties.
Bake for 25 to 28 minutes.
While this is happening, clean up the kitchen a bit. (You want to get that chocolate licked up before some child comes wandering through the kitchen looking for a handout.)
Frosting
2 tbl. Butter
½ cup semi-sweet chocolate chips
1 cup Powdered Sugar
Few Tbl. Milk
Combine the butter and chocolate chips in a saucepan over low heat. Stir until all melted. Add the powdered sugar and milk. Stir until smooth. If it feels overly stiff, add more milk, if it's too liquid, add more sugar.
SOME ASSEMBLY REQUIRED
When the brownies come out of the oven, let them cool on a wire rack.
Spread the frosting over the Brownies… let set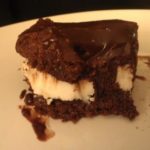 Eat
In case of a brownie emergency, and you just don't feel like waiting for everything to cool, you can spread the frosting (carefully) over the warm brownies, and cut them a few minutes later… still warm and gooey. You lose presentation points, but who cares….