Chocolate Mousse with Raspberry Sauce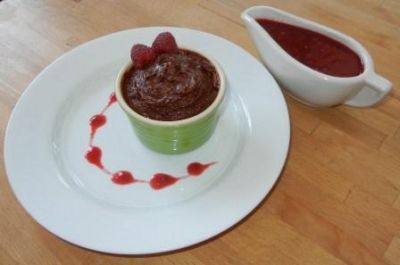 Chocolate Mousse is a dessert that wows everyone! This recipe is fairly simple and quick to put together. It's rich and rediculously chocolatey! Best of all, it won't use every saucepan and bowl in your kitchen to create.
As a dessert for a special meal, it is perfect!
You can prepare the Mousse in advance, dish it into pretty bowls or wine glasses, and store it in the fridge until after dinner when …. Ta DAH! You bring it to the table to oohhhs and aaahhhs.
Serve it with Raspberry Sauce and it's just AMAZING.
Chocolate Mousse Recipe
Makes 8 1/2 to 9 cups of Mousse
Prep Time: 20-30 min
Total Time: 30 min
 Ingredients
1 pound Bittersweet Chocolate
8 oz. Unsalted Butter
6 large Egg Yolks
8 large Egg Whites
3 oz. Chocolate Liqueur
1/2 cup Superfine Sugar
3 Tbl. Vanilla Sugar
Instructions
Consider how you want to serve the Chocolate Mousse. Family style from a large bowl? or individual servings?
Have the serving dishes close by.
Melt the chocolate in a double boiler.
Cut the butter into smaller chunks.
When the Chocolate is completely melted, pull it off the heat, and add the butter in, stirring with a spatula, a piece at a time, until smooth and completely incorporated.
Add the Egg Yolks in one at a time, quickly, stirring until smooth.
Add Chocolate liqueur, stir until smooth.
If the bowl is smaller than 10 cup capacity, transfer the chocolate mixture to a 10 cup bowl.
In a mixer, Whisk the Egg Whites until stiff peaks form, slowly adding in the Superfine Sugar and Vanilla Sugar as you whisk.
Gently fold the Egg Whites into the Chocolate Mixture. Do this a big spoonful of Egg Whites at a time. Fold egg whites carefully- you don't want to deflate them, and adding more as each previous spoonful is almost incorporated.
When last spoonful is in, continue folding until all white streaks are gone.
Put the Chocolate Mousse into the serving dishes or serving bowl.
Serve immediately, or cover with plastic wrap and store in Refrigerator.
Serve with Raspberry Sauce, Whipped Cream, and/or Fresh Raspberries
Raspberry Sauce Recipe
This Raspberry Sauce can be made with Fresh or Frozen Raspberries.
Straining the seeds out of the sauce keeps them out of your teeth, but if you really don't mind, go ahead and leave them in.
I add Raspberry Liqueur, but you can easily leave it out
Makes 2 cups
Prep Time: 25 min
Total Time: 30 min
Ingredients
2 cups Fresh or Frozen Raspberries
4 Tbl. Water
4 Tbl. Sugar
2-3 Tbl. Raspberry Liqueur
 Instructions
Put the Raspberries into a saucepan with the water and sugar.
Cook to boiling, then reduce heat to simmer.
Let simmer for 20 minutes until they break down and thicken a bit.
Crush them a bit with the back of a spoon.
Take the saucepan off the heat
Put a wire mesh strainer over a bowl, and pour the sauce through the strainer
Use a spoon to press the sauce through the strainer
occasionally scrape the yummy stuff off of the bottom of the strainer.
Keep pressing until all you have left in the strainer are seeds.
Stir the sauce in the bowl
Add the liqueur if desired.
If still thin, cook a few minutes more.
Serve with the Chocolate Mousse
<script async src="//pagead2.googlesyndication.com/pagead/js/adsbygoogle.js"></script>
<!– ab 4 –>
<ins class="adsbygoogle"
style="display:inline-block;width:728px;height:90px"
data-ad-client="ca-pub-6438871732581182″
data-ad-slot="2693233119″></ins>
<script>
(adsbygoogle = window.adsbygoogle || []).push({});
</script>