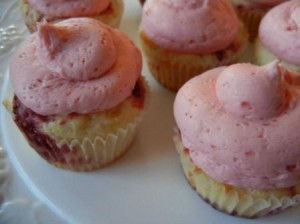 I love lemons. I love the way they taste. I love the way they smell,  and I really  love to bake this Raspberry Lemon Cupcakes Recipe with them. That tart, fresh taste is so delicious in baked goods, and it blends so well with berries.
Lemons remind me of growing up in Southern California. Lazy afternoons… doing not much of anything really. Wearing shorts and flip flops, sipping drinking Lemonade, playing with the other kids, running in the sprinklers, just hanging out and lazing the day away.
Bake up some Raspberry Lemon Cupcakes … they will transport you straight to summer.
Raspberry Lemon Cupcakes Recipe
Raspberry Lemon Cupcakes Recipe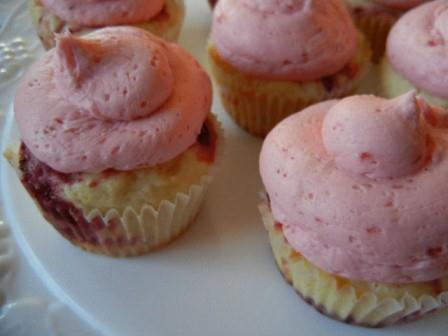 Sweet and Tart and VERY Pretty.... Perfect for a Tea Party Fresh lemons are important, but that stuff in the lemon shaped bottle will do in a pinch.... The Raspberry Puree can be made from fresh or frozen Raspberries.... you'll find instructions below For bonus points.. top the cupcake with a fresh Raspberry.
Ingredients
Cupcakes:

1 cup Butter- room temp.
2 cup Granulated Sugar
2 Eggs
1 cup Plain or Vanilla Yogurt
3 tsp. Lemon Zest
1/4 cup Fresh Lemon Juice
3 cup Flour
2 tsp. Baking Powder
1/2 cup Raspberry Puree **
Raspberry Puree:

1 1/2 cup Raspberries (fresh or frozen)
1/4 cup Sugar
Raspberry Buttercream:

4 cups Powdered Sugar
1 cup Butter
6 Tbl. Raspberry Puree
4 Tbl. Lemon Juice
Instructions
Cupcakes:

Preheat oven to 350 degrees F.
Line cupcake pans with paper liners... give them a quick spritz with non-stick spray stuff to make sure the cupcakes come out in one piece.
Put butter and sugar in a mixer bowl and beat until light and fluffy.
Add Eggs... beat to combine.
Add Yogurt, Lemon Zest and Lemon Juice, and beat until smooth.
Combine Flour and Baking Powder, add the flour mixture to the Butter mixture. Beat until completely combined.
Scoop a tablespoon of batter into each cupcake liner. I use a small cookie scoop with a thumb trigger for this. It's neat, and gets less on your fingers than a spoon (although... I do love licking batter off my fingers, it's not tremendously sanitary).
On top of the tablespoon of batter, spoon a teaspoon of raspberry puree.
Add another tablespoon of batter, and then a final teaspoon of puree.
Take a toothpick and swirl the puree and batter together a bit. You don't want to go nuts, just give it a quick whirl.
Put the pans in the oven and bake for 20 minutes.
Cool in pans on a rack for 10 minutes. Then remove from the pans and let cool completely.
Raspberry Puree:

Put fresh or frozen/thawed raspberries in a bowl. Sprinkle with 1/4 cup sugar and let them macerate (get squishy) for a bit. Mash the heck out of them with a potato masher, or toss the mess into your food processor. It will be like loose jam.
For the Raspberry Puree in the cupcakes, I didn't bother straining the seeds... too much of a bother. You can if you want to. Just make sure you end up with at least 1/2 cup in the end (you should get more!)
Raspberry Buttercream:

Put the butter in a mixer with a whisk attachment. Start it spinning. Slowly add the powdered sugar... seriously, go slowly, or you'll be wearing the sugar.
When the sugar is completely incorporated, add the raspberry puree and lemon juice.
Beat until smooth, fluffy and pink.
Pipe or spread on Raspberry Lemonade Cupcakes
http://angrybakery.com/raspberry-lemonade-cupcakes/
Serve Your Cupcakes on a Cute Cupcake Stand
The Ferris Wheel is my Favorite!
Wilton 4-Tier Stacked Cupcake and Dessert Tower
Pink Cupcake Stand
Ferris Wheel Cupcake Stand – Rotating Dessert Holder Station Tower – Spinning Cupcake Tray
3 Tier Rectangular Serving Platter, Three Tiered Cake Tray Stand, Food Server Display Plate Rack, White
&
Step By Step Instructions
 Squish the Raspberries through a Sieve to Make the Puree without Seeds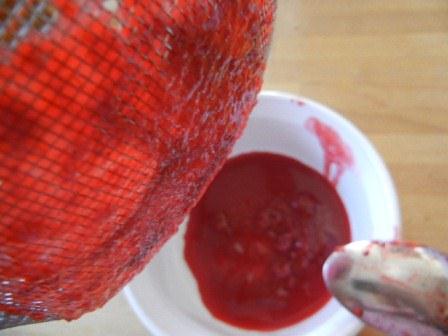 Scrape the bottom of the sieve
Put A Scoop of Batter in the Cupcake Cup…. add a Spoonful of Raspberry
Puree …Cover with more Batter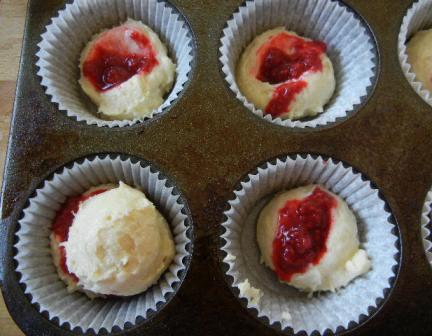 After Adding Second Scoop of Batter…
Add A Bit More Puree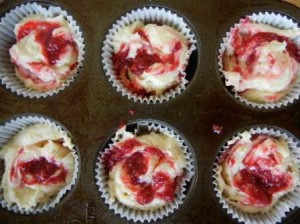 Swirl with a Toothpick
Baked Raspberry Lemon Cupcakes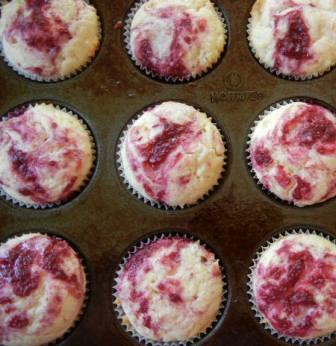 Just lightly browned on top
Pipe Raspberry Lemonade Frosting on top of the cupcakes!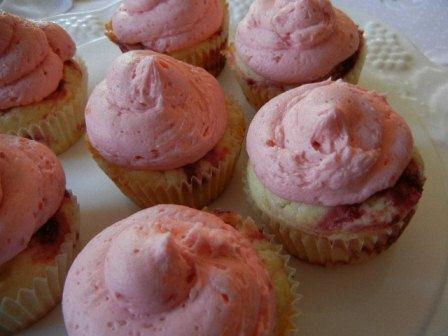 Raspberry in Every Bite of Raspberry Lemon Cupcakes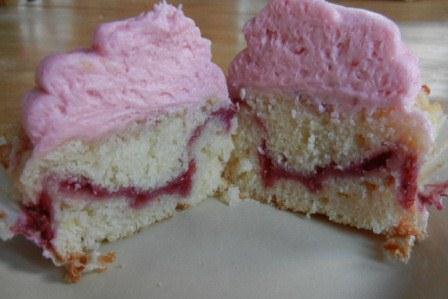 Transporting Cupcakes
It is frustrating to spend time and effort producing beautiful and delicious cupcakes… only to have them squashed or ruined before they arrive at the party.
Pack your cupcakes in these great Cupcake Storage boxes, and they will arrive looking perfect every time!
I like these because they are squared off…. and take up less storage space than a round carrier.
VonShef Snap and Stack Cupcake Storage Carrier 2 Tier – Store up to 24 Cupcakes or 2 Large Cakes
1 X Cupcake Courier Cupcake Caddy – Holds 36 – White
&
Freezing Cupcakes
Raspberry Lemon Cupcakes can be made in advance and frozen.
Freeze them, with or without Butter Cream, on a sheet, and then pack them in an airtight container.
You can keep them frozen for 2 months.