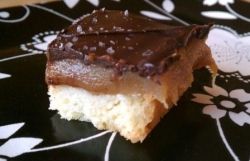 Rich and delicious, Millionaire Shortbread with Sea Salt is an amazing treat.
A crisp and light shortbread layer is topped with a layer rich Caramel and THEN capped off with smooth Dark Chocolate Ganache.
Swoon.
To gild the lily, a sprinkling of Sea Salt makes all the flavors POP!
It only looks difficult, Millionaire Shortbread is fairly easy to make… plus there are great Step-by-Step photos to help you find success.