Lemon Blueberry Bars
If Life hands you Lemons… ask Life to throw in a few Blueberries, and make Lemon Blueberry Bars!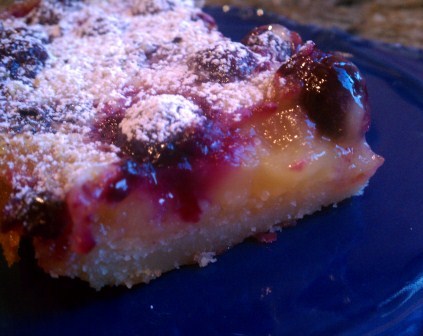 Winter in California has always meant citrus to me. I grew up surrounded by groves, and working in my father's wholesale Nursery. Those memories stuck hard in my taste buds…and I end up reaching for that sweet/sour bite of Lemons when I cook…. and especially when bake. That tartness freshens up the sweet… making it easier to eat more and more (and more…. ) So, it almost goes without saying that I love Lemon Bars…. gooey, tart, sweet. mmmmmm
And because I love Lemon Bars so much, I seldom bake them. But why? you ask… if you love them soooo much!
Well… it's because I'd just sit in the corner with the pan and eat them …. ALL.
no spoon, no fork, no napkin
Just me with my arms wrapped around the pan of Lemon Bars (scary look on my face).
So, today I'm at home with a somewhat sick kid (you know what I mean….my youngest shuffles slowly into the kitchen, and in a very weak voice says, "mom, cough cough… I'm sick… cough cough… can I stay home…".) so I cave, and she stays home. After a few hours of Sponge Bob and Board Games, and a MIRACULOUS RECOVERY, it was time for mom to have a treat. I deserved lemon bars, and since I had some blueberries left over from the scones… I thought I'd add them to the Lemon Bars.
Holy Moley!!
Lemon Blueberry Bars are AMAZING! They are everything that make Lemon Bars wonderful… tart, sweet, decent goo factor… with the added bonus of Blueberry swirled through the lemon.
I'll be over here in the corner… you'll have to make your own. (I've included Step-by-Step Instructions… this is easy, I promise)
enjoy!
Lemon Blueberry Bars Recipe
Lemony and Blueberry-y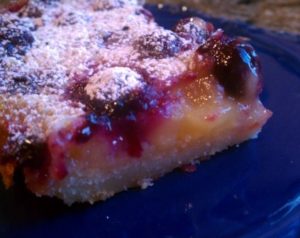 Serves: Makes an 8 x 8 inch pan, just enough for me on a bad day ; )
Total Time: 2 hours (when you include cooling time) (if it's a really bad day, eat them warm, I understand…)
These Lemon Blueberry Bars are tart, sweet, refreshing and delicious.
You can tart them up a bit by adding blue eyeshadow…. I mean, extra lemon zest…hee hee. I personally like them on the tart side, but my people don't… so, bake to your audience.
I only tried this with fresh blueberries (California imports them from Chile this time of year… since California has been importing fruit from Chile since the 1840′s, I'm just going to go with it)… you could try with frozen berries (maybe up the flour in the filling by a tablespoon)… let me know how it goes.
Depending on the phase of the moon, I'll either just spray the pan with non stick stuff, or I'll line it with foil first so I can lift the bars out more easily for cutting. Up to you. You do get a neater cut if you use foil… but if you just plan to eat them all yourself, you don't need to bother
BTW… this is a food processor recipe… don't have one? put it on your birthday list (in a pinch, you can make margaritas in it, so it does double duty)
Ingredients
CRUST
1 cup Flour
1/2 cup Powdered Sugar
1/2 cup Butter- cold
FILLING
2 Eggs
1 cup Granulated Sugar
3 Tbl. Flour
2 to 3 TBL Grated Lemon Zest
1/4 cup fresh Lemon Juice
1/4 cup smashed Blueberries
1/2 cup whole Blueberries
TOPPING
2 Tsp Powdered Sugar
Instructions
Preheat the Oven to 350
Prepare an 8 x 8 inch baking pan… either spray it with non-stick stuff, or line it with aluminum foil, and then give it a quick spritz with the stuff.
Crust
Haul out your food processor. Load the bowl with the flour, powdered sugar and the butter (cut the butter into smaller chunks first). Let it whirl!… You are looking for damp powder. All mixed.
Pat the flour mixture into the pan … go ahead and use your hands.
Put the pan into the hot oven, bake for 18 minutes. It will look light brown at the edges.
Set aside while you mix the filling.
Filling
In a medium bowl, combine the eggs and sugar… whisk to mix.
Zest the lemons into the bowl (I like lots of lemon, so I go up to 3 or a bit more TBL, but you can go with 2 TBL… about 1 lemon)
Squeeze your naked lemon… you need 1/4 cup of juice.
Whisk the lemon into the egg/sugar mix.
Now… smash the blueberries (I found that 1/2 cup of whole blueberries smashes down to 1/4 cup) and stir it in to the filling mix.
Then add the 1/2 cup whole blueberries, stir.
Pour the filling mix over the crust… try to even out the blueberries a bit.
Stick into the oven and bake for 25 minutes. It should be almost firm.
Let it cool on the counter for 10 minutes, then stick into the refrigerator for an hour.
Now… cut and serve.
Put the Flour and Sugar into the Food Processor
Add the Butter… Process to Wet Sand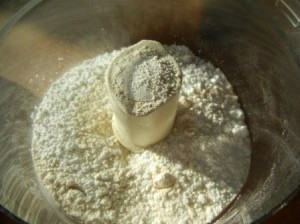 Dump the Crust Stuff into the Prepared Pan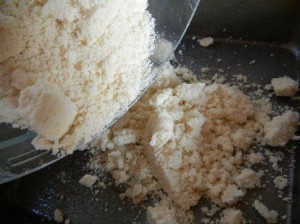 Press the Crust into the Pan
Use Your Fingers… that's why you have them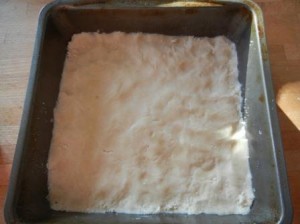 Bake the Crust for 18 Minutes
It Should Look Like This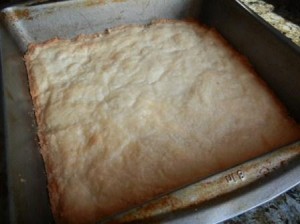 Gather Your Filling Supplies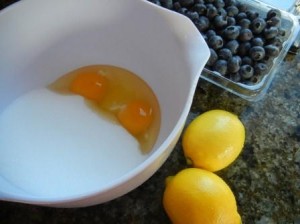 Zest the Lemon Into the Eggs, Sugar and Flour
Use More if You Like it Tart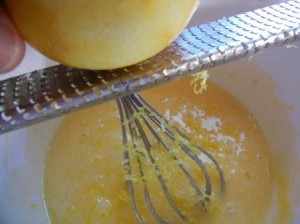 Moosh Some Blueberries
1/2 cup of Blueberries Smashes Down to 1/4 Cup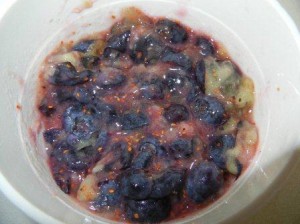 Mix the Blueberries Into the Lemon Filling Mixture
Smashed and Whole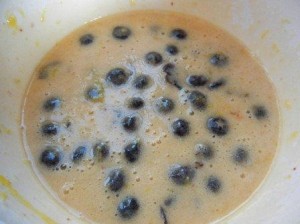 Pour Filling Over Crust
Pop it into the Oven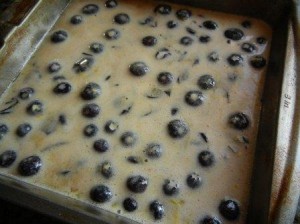 Bake 25 Minutes
Should Look Like This…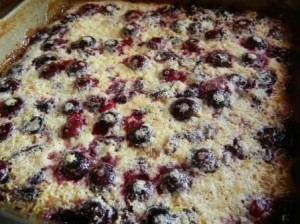 Sprinkle With Powdered Sugar
Using a Small Strainer Makes it Come out Even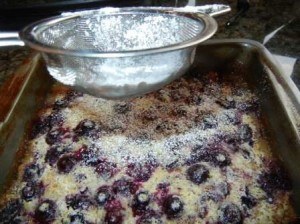 Yum!
 Transporting Lemon Blueberry Bars
The easiest way to transport Lemon Blueberry Bars is to cut them into squares, and put the squares into cupcake liners. Then you can carry them in a cupcake transporter without crushing them.