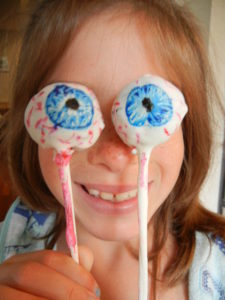 I love Baking for Halloween. It's a great chance to be creative and fun, without stomping on anyone's pre-conceived ideas of what HAS TO BE BAKED (seriously, I know a few people who go absolutely batty if they don't have their Gingerbread at Christmas, or Chocolate Cake at a Birthday).
Halloween can be fun, spooky, scary, bloody, sweet, or cute. You can go with pumpkin or fall flavors, or you can make red velvet…or you can mash up Snickers Bars into Brownies. Use color, use chocolate, use molds or pans, use cutters or squeeze bottles.
Halloween to me means playing in the kitchen!
So, TRY some of these ideas… I've included recipes, ideas, and equipment….grab a kid (or 2) or a friend (or 2) then go have some fun Baking for Halloween.
Spider Cupcakes
Create Spiders Out of Chocolate!
These Spider Cupcakes are a fun treat forHalloween. You make cupcakes, and frosting… then create spiders from round chocolates and piped spider legs…
I used Lindt Lindor Truffles and Milk Duds (and I got to keep the extras for myself..)
Just follow this link to learn how to make these Spooky Spider Cupcakes

Monster Cupcakes
Make these simple Monster Cupcakes with any kind of cupcake you like… then use store bought frosting to decorate. You don't need special talent to make these google eyed cakes look good.
Follow this lint to find the recipe and instructions Monster Cupcakes
Spider Web Cupcakes
Easy to Make… and Look Great
You need….
12 Baked Cupcakes
1 can of Prepared Frosting
1 tube of decorator frosting
warm the frosting… dip the cupcakes…. then spiral on the web..
Take a look at the easy instructions from PartyCakes

Halloween Cupcake Wrappers
Transform Your Halloween Cupcakes and Muffins in Halloween Wrappers!
These Cupcake wrapper act as sleeves to make your cupcakes look that much fancier! Bake in a standard cupcake liner, then slip the frosted cupcake into a themed liner. It's easy, and makes every cupcake look even better! (A wrapper can even take the place of fancy decorations).

Monster Eye Cupcakes
A Scary Eye Peering From the Buffet Table
These Green Monster Eyes look a little like Mike Wazowski from Monsters Inc., so they are perfect for serving at a movie party! Simple you just need some simple cake decorating technique to make these look really good.
Follow this link to get the instructions for Monster Eye Cupcakes
Graveyard of Cupcakes
I love making a Graveyard of Cupcakes around Halloween… this also works on a sheet cake!
All you will need~
baked cupcakes frosted with chocolate frosting
Oreo crumbs Or Chocolate Cookie Crumbs (around a dozen or more oreos smashed to crumbs)
Chocolate Dips or chocolate chips…. melt and put in a baggie or piping bottle
White chocolate if you want to make bones
And these instructions to pull it all together…. Graveyard Cupcakes
Spooky Sprinkles
Halloween Colored Sprinkles glitz up any cupcake…. You will have fancy cakes in no time!
Halloween Sugar Lay Ons
Lay These Sugar Decorations on Your Cupcakes or Cake Pops for Instant Halloween Decoration
Candy Bar Brownies
All those delicious candy bars…. why not bake them into Brownies!
Just chop up your favorites and add them into the brownie batter for a totally wonderful taste combination that you will want to make year round!
Just follow this link…. Candy Bar Brownies
Halloween Cake Pops
Cover the Cake Pops in Halloween Sprinkles..
Simple Chocolate Cake Pops can be transformed into Halloween Cake Pops by sprinkling on Orange Pumpkin Sprinkles.
Bag in Clear Cellophane, and tie off with an Orange or Black ribbon.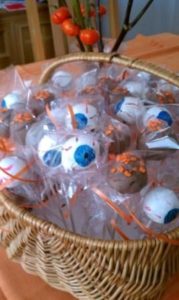 A Basket of Halloween Cake Pops makes a sweet centerpiece!
Wrap each cake pop in a clear cellophane bag and tie off with a ribbon.
These are great for Halloween Parties or for Trick or Treats!
A piece of foam stuck in the bottom of the basket will make them stand better.
Cake Eye Balls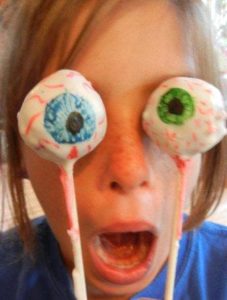 Red Velvet Cake with a Gruesome Covering!
Cake Balls are great for parties… and I love giving away these spooky Cake Eye Balls.
Red Velvet Cake makes them look bloody inside, adding to the gore factor. You can use food color to paint on the eyes… as cute or as gory as you like. (My son went for sutures and mold…. daughter went for cute). However you make them, they are sure to be a hit.
Slip into a cellophane bag and tie off with a ribbon for gifting, and they will last a few days. Then stick them in a basket by the doors for trick or treaters and friends.
For the recipe and instructions follow the link to Cake Eye Balls
Pumpkin Tea Cake
Use this Basic Pumpkin Cake Recipe for any Shape You Like!
This basic Pumpkin Tea Cake Recipe is a snap to put together, and it tastes like fall…spicy and sweet, with just enough pumpkin to make it Halloweeny. This was my son's favorite cake when he was little, so I made it for his birthday every year.
Follow this link to the recipe for Pumpkin Cake
Halloween Cake
Decorate Bundt Cakes to Look Like a Jack O'Lantern
Simple … and Cute
Use a Pumpkin Cake Pan to Bake up a cake of any flavor… I like Pumpkin… then decorate to look like a Jack O'Lantern!
Just Bake and Decorate!
The Cake Boss Shows You some Tricks

Halloween Brownies
Bake Halloween Brownies
Got Extra Trick or Treat Chocolate Laying Around?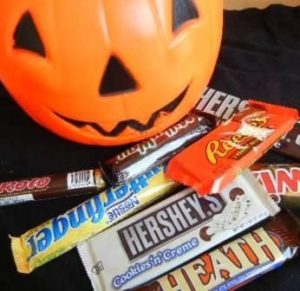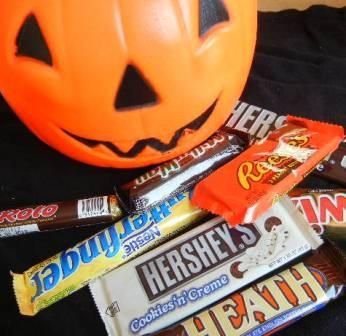 Make Candy Bar Brownies!
Chop up your favorite assortment of candy bars … any kind will do…
Follow the link to the recipe and technique…
Candy Bar Brownies
Follow this link to find the recipe for Candy Bar Brownies
Halloween Whoopie Pies
Make Some Whoopie for Halloween
Pumpkin Whoopie Pies with Caramel Frosting
Cinnamon, Pumpkin, and Caramel… mmmmmmmm
These Pumpkin Whoopie Pies with Caramel Filling are a wonderful treat at Halloween.
You can serve them as they are….
Or
Dip the edges into Halloween Sprinkles…
OR
Go nuts… get out some decorator pens and draw Jack O Lantern faces on them.
Often if I'm transporting or serving whoopie pies, I slip each one into a cupcake wrapper… keeps them from falling apart (and it's a bit more sanitary)
Follow this link to get the recipe for Pumpkin Whoopie Pies

Looking for a way to start your day on Halloween? Try these
Pumpkin Chai Muffins
It doesn't always need to be decorated… sometimes just having Pumpkin is enough…
Follow this link to get the recipe for Pumpkin Chai Muffins
Halloween Cookies
Dip Bat Shaped Cookies In Chocolate
Kids Love to Help With These… my daughter loves to get into the kitchen and play with her food. Your kids can help decorate and EAT any Halloween Cookies
Follow this link to find the recipe for Bat Cookies
Halloween Cookie Cutters
Cut Out Halloween Cookies
I love sugar cookies for any holiday. For decorating, you want a cookie cutter that doesn't have tiny edges or bits.. simple is better!
Halloween Gingerbread House
Who Says Gingerbread is For Christmas?
Build a Halloween Gingerbread House!
Halloween Gingerbread House Kits
Build a Haunted Gingerbread House – Pre-baked or Bake Your Own
Halloween Baking is Fun!