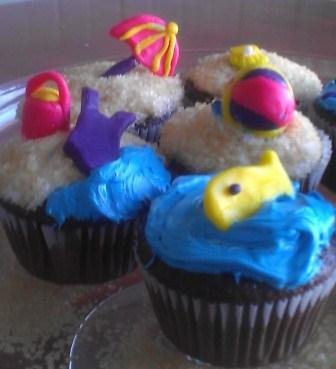 Are you heading to the Beach or having a Beach Party? Check out these easy to make Beach Themed Cupcake Ideas!
Whether your party is on the Beach…. or a "Beach Party" in your backyard… everyone will expect dessert. Cupcakes are always welcome. And it's even more fun when they are decorated in a Beach Theme!
I love the Beach, and I love Cake. Naturally….. having Cake AT the Beach is just about the best thing ever. (Sorry, I know that goes against the Bikini Code…. but, did I mention… IT'S CAKE!?!) As a California Girl, I've both attended and hosted a few parties on the Beach… Let me share some great ideas for baking and decorating Beach Themed Cupcakes.
Now, I'm fully aware that not all of us are decorating masters…. I happen to be kind of a dud at it…. but these ideas are truly easy. Anyone can make them work. (And remember, people want to eat cupcakes, not look at cupcakes…. as long as you are close, it's good. Life is not a competition).
There are step by step photos of making the decorations and a description of the tools and things I used.
It's all you need to make great Beach Cupcakes
Beach Themed Cupcake Ideas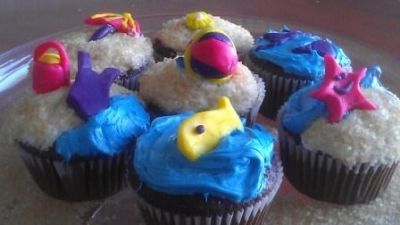 Sand on a Cupcake?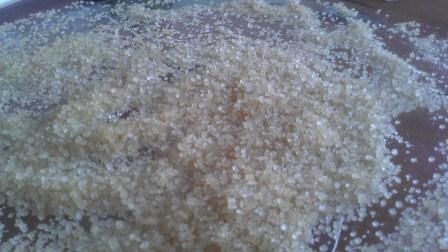 Make Your Own Edible Sand
Sand is easy…..
I use Turbinado Sugar… that stuff that comes in those brown packets at the local coffee house (no, I'm not advocating stealing a handful of sugar packets). It looks like sparkly sand… and it's cheaper than sprinkles.
Now
Some people don't want to add extra sugar to their already sweet cupcakes. Fine. You can crush up graham crackers to crumbs, then use those. (Actually, if you get the whole wheat graham crackers, you are practically making health food.)
Sugar, Yummmy Raw Turbinado Sugar 24 Oz, All Natural Sugar Cane, Kosher Certified
Wholesome Sweeteners Organic Turbinado Raw Cane Sugar, 24-Ounce Pouches (Pack of 12)
Keebler Graham Cracker Crumbs, Bulk 3 Lb. Bag
Nabisco Honey Maid Graham Cracker Crumbs, 13.5 oz
&
Frost Your Cupcakes to Look Like a Beach
Either all "sand" or half "water" half "sand"
Create the effect of Water and Sand….
Pre Colored Fondant
Fondant Comes Pre-Dyed for Easier Use
For the examples I show here in this article, I used a pre-colored fondant. The pre-colored stuff is a bit more limiting when it comes to matching particular shades of purple or pink….but you don't have to knead color in to it, and you don't have to worry about matching the color if you need to go back and make more.
The pre-dyed fondant needs to be warmed just a bit in the microwave to make it pliable… then just roll and cut with small cutters or a knife.
Find 4 packs of pre-dyed fondant in Primary and in Neon colors on Amazon.
Wilton Primary Colors Multi Pack Decorator Preferred Fondant,
Wilton 710-2312 Neon Decorator Preferred Fondant, Assorted, 4-Pack
&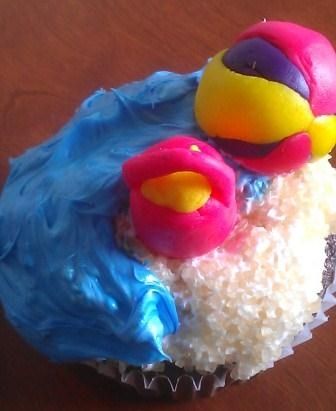 Buckets and Balls
Make a Beach Ball or a Bucket
Fish, Shell, and Sea Star
Make some sea creatures
Swim Suits on the Beach
Tank and Bikini Suits
Make a Beach Umbrella From Fondant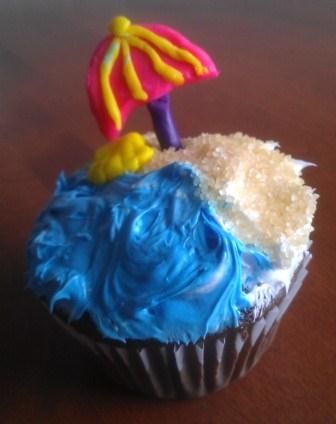 Warning! The Pole doesn't hold the umbrella up very well… either reinforce with a toothpick, or lay it down.
Fondant Tool Kit
Student Set of Fondant Tools
Ready to go crazy making Fondant Decorations? This tool set has it all… cutters, rollers, and shapers.
With this set you can build ANYTHING out of Fondant.
HOSL 4 Sets (11pcs) Sugarcraft Icing Cake Smoother Fondant Cutter Embosser Rolling Pin Modeling Tool Kit Set
Wilton 1907-1349 Basic 3-Piece Fondant and Gum Paste Tool Set
&
Want a Super Easy Way to Decorate Beach Cupcakes?
Use Pre-Made Decorations
The little umbrellas are great as Sun Umbrellas on the beach… Palm trees are a bit fiddly to make yourself.
Dress My Cupcake DMC41S-801 12-Pack Double Palm Tree Pick Decorative Cake Topper, Sea/Ocean/Nautical/Summer, Green
Fun Express Paper Cocktail Drink Parasols – 144 Pieces
&
Sugar decorations or Lay-Ons picks will show the theme with low effort.
BundleOfBeauty Item#33979- Beach Summer Edible Sugar Cupcake & Cake Decoration Topper-Pack of 16
Nautical Beach (Boy Blue) Edible Cupcake Toppers Decoration
12 Count Sea Creatures Assorted Dec-ons
&
Turn Your Kitchen into Willy Wonka's Workshop
Melting and molding chocolate enables you to make an unlimited number of different form… you can easily make shells. You can also use these molds for Fondant.
These molds can be used multiple times with chocolate, fondant or gumpaste…. it's easy and quick. Add color if you want… or leave them white…. or paint with an airbrush or paintbrush.
CK Products Sea Creatures Chocolate Mold
Funshowcase Assorted Sea Star Seashells Silicone Candy mold for Sugarcraft, Chocolate, Fondant, Resin, Polymer Clay, Soap Making
&
Flip Flops SCREAM Beach
You will need the Flip Flop Chocolate Mold to make this cupcake work.
Melt and Mold 2 colors of chocolate to make these cute Flip Flop candies.
Flip Flop Molds are easy to use, and look great when you have 2 colors of chocolate.
Cybrtrayd M221 Bite Size Flip-Flops Chocolate Candy Mold with Exclusive Cybrtrayd Copyrighted Chocolate Molding Instructions
CK Products 1-1/2-Inch Flip-Flops Chocolate Mold
&
Beach Themed Cupcakes