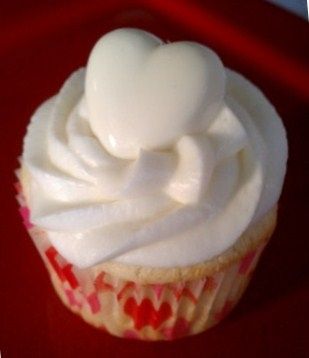 Special Occasions call for special treats. The Best Champagne Cupcake Recipe is perfect for New Year's Eve, Wedding Cupcake Towers, Wedding Showers, Baby Showers, Anniversaries, Valentine's Day, Birthdays, Graduation Parties and even the third Thursday of any month that you feel hungry.
Champagne Cupcakes have champagne baked right in… yum… and more champagne in the frosting…divine. The recipe is straight forward, and easy to follow. Plain they are delicious, but the addition of a raspberry filling makes them spectacular! These special cupcakes are a light and flavorful cake topped with a delicious Champagne Frosting.
My kids actually fought over the last one… and requests are coming in.
Decorate with sprinkles, or colored sugar. We have an alarmingly huge assortment… so I just let the kids choose… pick something to go with your theme. I love making these sweet white chocolate hearts.  (Just follow the link to the "recipe")
I drink champagne when I'm happy and when I'm sad. Sometimes I drink it when I'm alone. When I have company I consider it obligatory. I trifle with it if I'm not hungry and drink it when I am. Otherwise I never touch it – unless I'm thirsty.

~ Madame Lilly Bollinger
Best Champagne Cupcakes Recipe
Best Champagne Cupcakes Recipe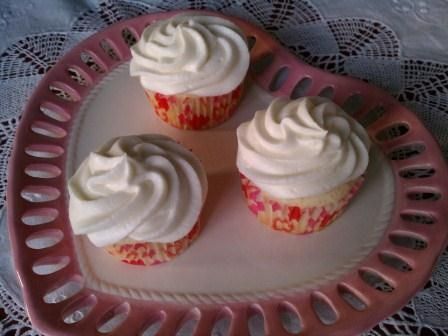 Moist Champagne Cupcakes are the perfect treat for any special occasion. I love the additional tart flavor that you get from adding a Raspberry Jam filling... but you can leave that step out.
Ingredients
CUPCAKES:

3 Egg Whites
1 cup Butter
1 1/2 cup Granulated Sugar
2 1/2 cup Flour
3/4 Tbl Baking Powder
1 1/2 cup Champagne (room Temp)
**4 Tbl Seedless Raspberry Jam
FROSTING

1/2 cup Butter
4 cup Powdered Sugar
1/4 cup Champagne
Toppings:

Sprinkles
Chocolate Hearts
Instructions
Cupcakes:

Preheat Oven to 350 degrees Fahrenheit
Line Cupcake pans with Cupcake liners... I normally like white, but the heart liners brought the Valentine Theme to life.
You need to start by whipping 3 Egg Whites. Separate the eggs, making sure not to get any of the yolk in with the white (I usually crack the egg by banging it on the counter, then I run the egg stuff through my fingers... yes, I wash my hands... catch the yolk in your fingers).
Whip the egg white in a clean mixing bowl until stiff peaks form. Just stiff... not dried out. Then transfer the egg white into a bowl and set it aside.
In the bowl of the mixer (nope.. you don't have to wash it) combine the room temperature butter and the granulated sugar. Whip for 4 to 5 minutes until light and fluffyish.
Combine the flour and baking powder in a large measuring cup (use a whisk)
Measure out the champagne
With the mixer running, alternate adding the flour mix and the champagne to to butter mixture. Go slowly, take your time, you don't want it to bounce back at you. When it's all in, beat for two minutes. Scrape sides of bowl, don't forget the bottom. Beat another minute.
Now, fold 1/3 of the egg white into the batter... use a spatula to fold it in... then add the next 1/3.... then the last.
Make sure the egg white is completely incorporated, but don't over mix and deflate the egg white.
Use an ice cream scoop with a thumb release to fill the cupcake liners (yes...you can use a spoon if that's what you have... but put the ice cream scoop on your wish list)
Bake for 19 minutes at 350
Bing
Let the cupcakes cook in the cupcake pans for 4 to 5 minutes... then take them out of the pans, and let them cool completely (don't even think about trying to frost them warm)
Frosting:

Put the Butter and 1 cup of Powdered Sugar into a stand mixer with a whisk attachment. Whip them together.
Slowly add more and more powdered sugar.
Drizzle in some Champagne.
Add more powdered Sugar.
Scrape sides and bottom.
When all is added...let it whip on high speed for 2 minutes.
Now check it...if the frosting feels too stiff, add a little more Champagne.... if it's too loose, add a little more powdered sugar.
ASSEMBLY
If you want to add raspberry filling, scoop out a small bit from the top of the cupcake (I use my coffee scoop for this, but a spoon should do it), add about 1/2 teaspoon of good quality seedless raspberry jam into the space... then put the bit back on.
Decorate:

Frost the cupcake... decorate immediately with sprinkles or chocolate hearts.
Notes
Some people like their Champagne Pink… I chose not to add food color to the cupcakes or the frosting, but feel free to do so. A few drops of food color paste should do it.
http://angrybakery.com/champagne-cupcakes/
Giving Champagne Cupcakes as a Gift?
Take a look at these cute Cupcake Gift Boxes…


 Step By Step Instructions with Photos
Whip The Egg Whites to Stiff Peak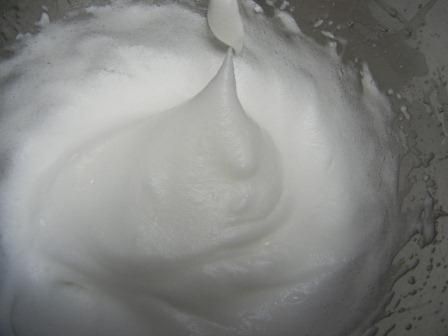 Not dry.. just stiff… then put the egg whites in a bowl off to the side
Make sure your bowl and beater are clean… any fat will interfere with the whipping up of the egg white. Basically, you'll just be watching it go around and around and never get white… ( at that point, make an omelette and start over).
Whip the Butter and Sugar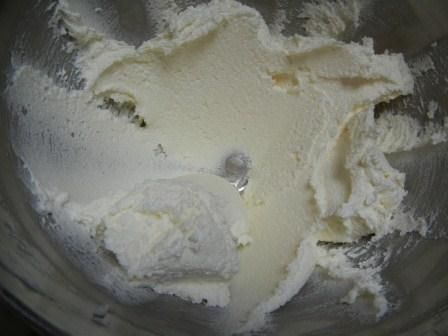 Light and fluffy… about 4 minutes
You can wander around doing other things for four minutes.
Measure Out The Champagne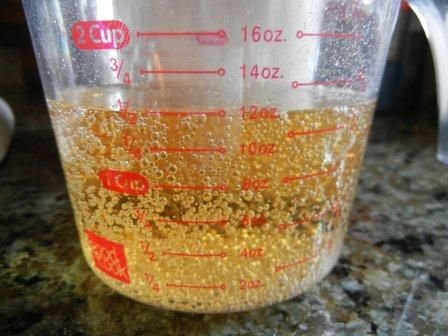 Maybe sample a bit to verify that you are using a good product
After Adding Flour and Champagne, the batter will Look Like This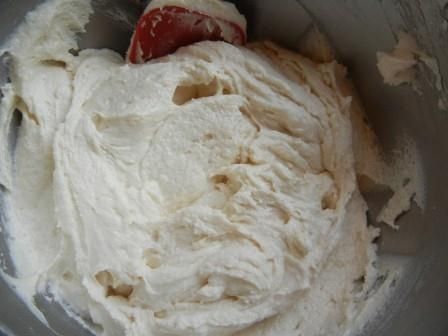 Fold In the Egg Whites
A Little at a Time
Scoop 1/3 of the egg whites into the batter… run your spatula down the side of the bowl, and up through the middle of the batter…rotate the bowl a quarter turn and repeat, and repeat again. When the egg white is mostly incorporated…add another third of the egg white and do that spatula thing again. Then add the rest of the egg white… and once more… fold it in.
It should look something like this.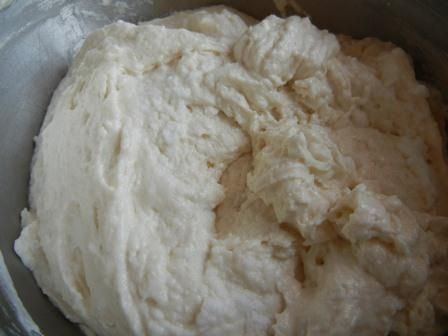 Use the Ice Cream Scoop with a Thumb Release to Fill The Cupcake Liners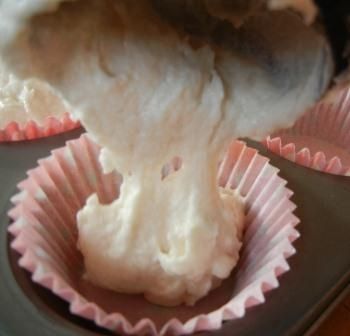 yes… you can use a spoon
Ready for the Oven
see how nice it looks when you use a scoop?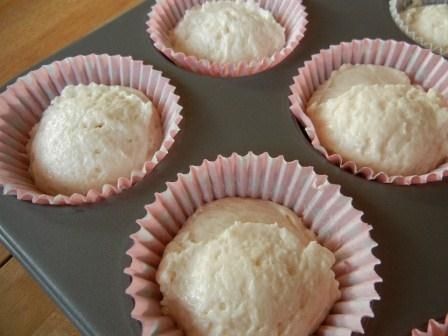 Bake 19 Minutes
Let Cool in the Pan for 2 or 3 Minutes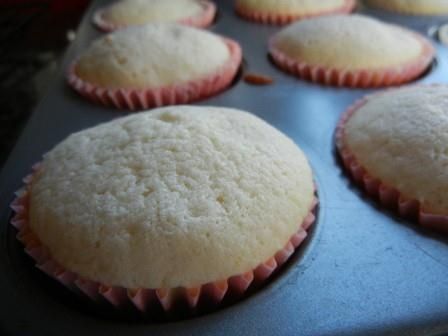 Cool Completely on a Rack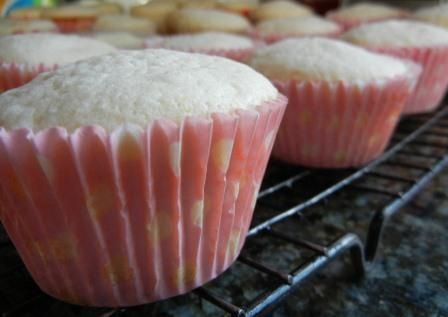 Don't Ice These Warm
Adding Raspberry Filling?
Scoop out a bit from the top of the Cupcake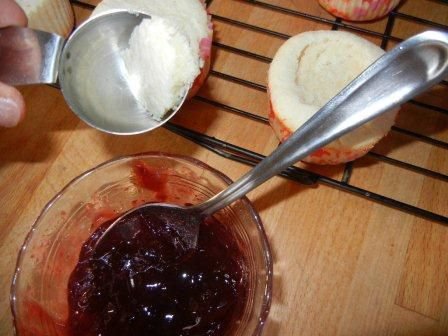 I use a decent quality SEEDLESS Raspberry Jam that I bought from the store. If your Aunt Edna makes the best darn Raspberry Jam in the world, feel free to use it , just get those seeds out (chopsticks work well for that….) (kidding..run it through a strainer).
About 1/2 teaspoon of Jam is Enough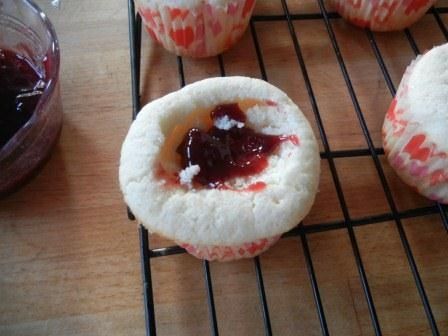 Put the Top Back On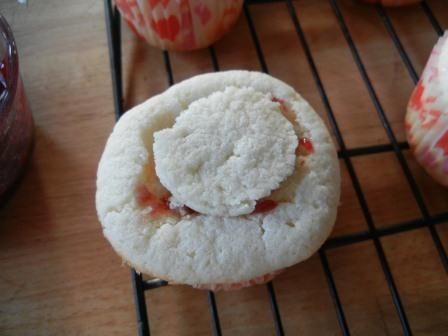 For the Champagne Frosting...
Combine Butter and Powdered Sugar, then alternate more sugar and champage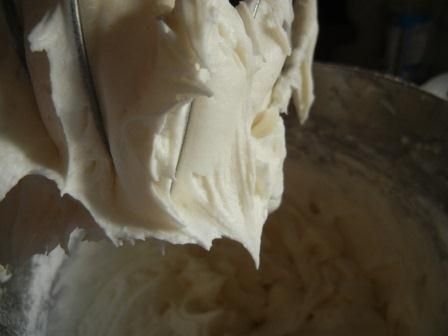 Beat until fluffy and of good consistency… taste it…. add more sugar if too loose, add more champagne if too stiff.
Pipe The Frosting on the Cupcakes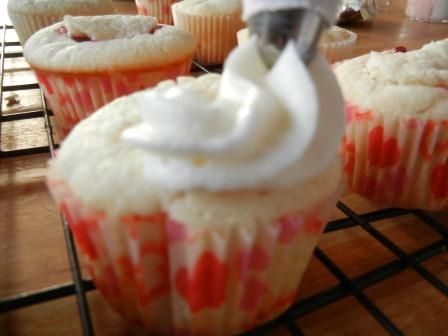 Note… You Can Use a Spreading Knife to get the frosting on…. but a piping bag makes it easier.
Decoration Ideas for Your Champagne Cupcakes
Red Sprinkles are  Nice for Valentine's Day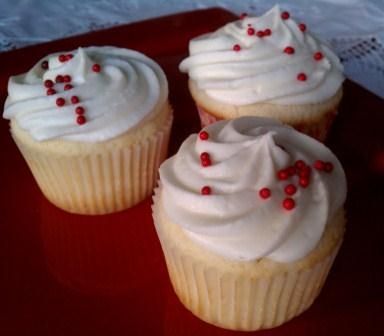 Pink Colored Sugar is Cute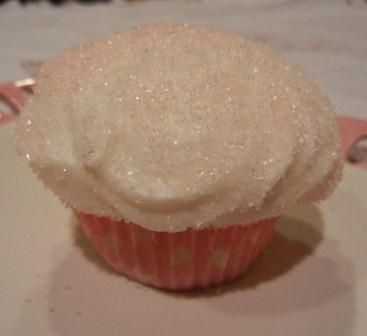 Chocolate Hearts are Sweet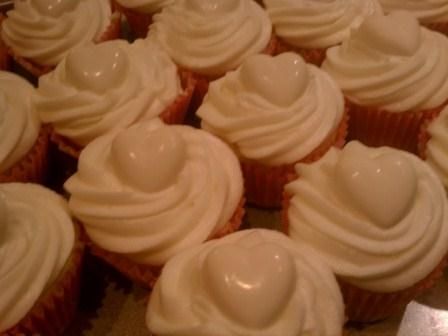 Decorate with Chocolate Caps for a Graduation Party
Chocolate Caps with Fruit Leather Tassles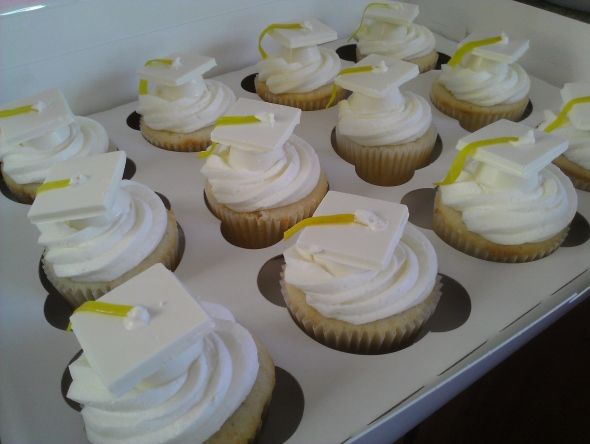 Click this link to make your own Chocolate Hearts
Make your own Chocolate hearts