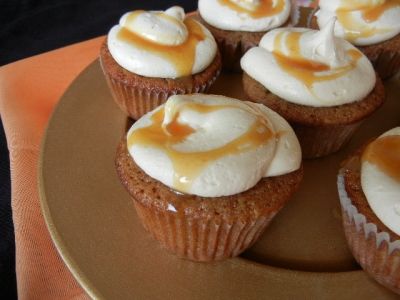 Our Apple Tree was LOADED with apples this year…and I needed a place to put them all (before the boys decided to play another game of Broom and Apple Baseball…. ARGH! What a MESS).
Caramel Apple Cupcakes Caramel Frosting and all are a great Fall Dessert. The applesauce cupcake is loaded with chunks of  apple, which makes them almost healthy (hahahahaaha). The taste will remind you of an old fashioned Apple Cake (or even a muffin). The cinnamon adds a nice level of spice, but you can leave it out if you don't want that. (Use any tart apple you prefer… or whatever you have growing in your garden and need to get rid of).
The cupcakes are covered with an easy to make, sweet and fluffy Caramel Frosting.... then drizzled with Caramel Sauce. MMMMMMmmmmmm
Caramel Apple Cupcakes Caramel Frosting
Caramel Apple Cupcakes Caramel Frosting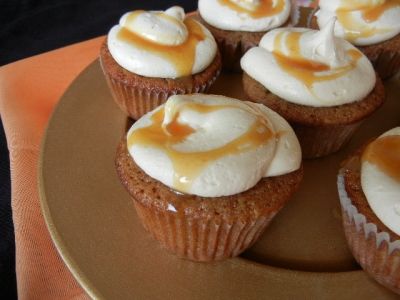 The Caramel Frosting is made with Caramel Sauce from a JAR. Found it in the Ice Cream section of the store (I DO like that section). You can make it with your own home-made-from-Aunt-Nelly's-Caramel-Sauce. That's fine. (Just seems like extra work. ) Bake these in red or green cupcake cups to make them look more Apple-y, or use Halloween Cupcake liners. Up to you.
Ingredients
CUPCAKE BATTER:

3/4 cup Butter
3/4 cup Granulated Sugar
3/4 cup Brown Sugar
4 Eggs
2 cups Unbleached Flour
1 tsp. Baking Soda
1/2 tsp. Cinnamon
1/8 tsp. Cloves
1 1/2 cups UNSWEETENED APPLESAUCE

DIced Granny Smith Apple
FROSTING:

1 cup Butter
3/4 cup Caramel Sauce
3 cups Powdered Sugar
TOPPING:

Caramel sauce to drizzle
Instructions
Preheat oven to 350 degrees Fahrenheit
Line Cupcake Pan with Papers
CUPCAKES:

Put the Butter and Sugars in the bowl of a Stand Mixer.... beat until fluffy... could take a few minutes (go get the mail, start a pot of coffee, yell at the kids for leaving their shoes for you to trip over for the 100th time)
Add the Eggs one at a time... beat and scrape between each addition.
In the measuring cup, mix together the dry ingredients... flour, baking soda, cinnamon and cloves.
Add the Flour Mixture to the Butter/Egg mixture...ALTERNATE adding in the Apple Sauce... so, add 1/3 flour..then 1/2 apple sauce..1/3 flour..1/2 apple sauce..rest of flour. (Whatever you do, don't dump the flour in all at once. Unless you are planning to be a ghost for Halloween.)
Mix to combined, scrape the sides, mix again .... STOP.
**Optional - Fold in the peeled, diced Granny Smith (or other sour apple). I like it this way, gives it an extra burst of apple, but some kids don't like "funny stuff" in their cupcakes.... sigh... tell them it's witch boogers or something...
Scoop the Batter into the Cupcake Papers...I have been using an ice cream scoop for this. I used to scoff at people who did this... but it really works! I scoff no more.....
DON"T FILL MORE THAN 3/4 full. I know it's tempting... but it's just not a good idea. Overflow..mess... destruction (not as bad as Godzilla... but you get my drift)
Bake for 20 minutes. (read a magazine, think about how wonderful your life would be on a Tropical Island somewhere, search for someone's soccer cleats that they SWEAR were right here in front of the door a minute ago)
They are done when a toothpick inserted comes out clean.
Cool on a rack.... don't frost before they cool... it will melt....
FROSTING:

This is a dead easy frosting (aren't you loving all of these Halloween allusions?)
Put 1 cup of softened butter in the mixer with a whisk attachment.
Turn it on low.
Slowly add the sugar a bit at a time (Why? read the bit about the flour above... and sugar is WAY more sticky)
As it starts to get stiff, slowly add in the caramel sauce.
Turn up the speed
Add more sugar.. and more caramel... until it's all in
Whisk until light and fluffy.
If it's too stiff? Add more caramel
If it's too soft? Add more powdered sugar
If you stick your finger in it while the machine is going? My sympathies... get a band aid before you really do have a gory cupcake
Put the frosting in a piping bag with a big tip if you have one... and frost away.
If you don't have a piping bag? Just schmear it on with a knife...it'll be fine
TOPPING:

Using a spoon, or a bag with the corner clipped off, drizzle a little caramel in a swirl pattern across the top of the frosting.
http://angrybakery.com/caramel-apple-cupcakes/
Everything You Need for Perfect Caramel Apple Cupcakes