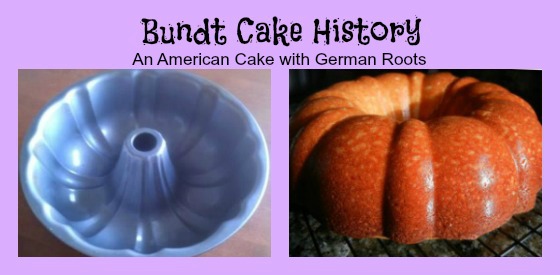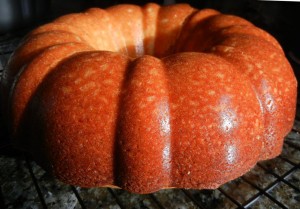 Everyone loves a Bundt Cake, that familiar round cake with the hole in the middle. .. and we all have our favorite flavors and memories associated with it. But what do you know about Bundt Cake History? Did you know that Bundt Cake Pans are actually an Americanized version of a German Gugelhopf pan? Read on to learn more….
Bundt Cake History
According to Smithsonian Magazine, the Bundt Cake is "The Icon Cake of 60's Comfort Food"*, an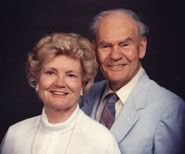 d that this Bundt Cake Pan is treasured in the Museum of Natural History (ok sure, not next to Dorothy's Ruby Slippers.. in another, much smaller room, down the hall.) That's quite a coup for a simple aluminum pan.
You might be surprised to know that the Bundt Pan is a relatively new addition to our baking arsenal. (Apparently, before the 1950s, if you wanted a hole in the middle of your cake, you had to dig it out yourself.) (And I suppose, eat that bit without sharing with anyone).
So…Where did the Bundt Cake Pan come from? What spurred its popularity And why after 60 years, we still reach for a Bundt pan to bake the cakes our family loves.
Bundt Pan History
In the late 40′s, David Dalquist, a metallurgy expert, and his wife Dorothy started a Minnesota company that would make Scandinavian Bakeware (Rosette Irons and Ebelskiever pans).
In 1950, he was approached by a group of woman from the local Hadassah Society. They asked him if he could recreate the Gugelhopf Pan that they remembered their mother's using in Europe. (The original Gugelhopf Pans were heavy, made of Cast Iron or a thick Ceramic, and didn't travel well). The American cakes of the time were too light and fluffy, and they missed the dense rich cakes of their childhood. A pan with a hole in the center would allow the heat from the oven to reach the batter in the center of the cake… baking it evenly.
David Dalquist headed down to his basement workshop, and reproduced the Bundt pan out of cast Aluminum.He added a few extra folds to the pans shape, to give it flair.
Bund is German for Club or Group… these cakes were served at gatherings. When it came time to patent the form, he added a T to the end of bund… making it BUNDT.
At the time, he made enough for the women, and sold a few extra in the local department store. The original price for the "new" Bundt Pan" was $4.00. They did ok, but did not set the world on fire.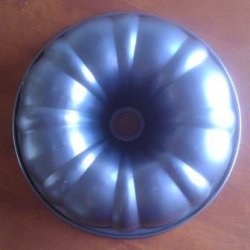 The Original Bundt Cake Pan looked like this one.…. Round with a hole in the middle… and bumpy folds. For the 60th anniversary Nordic Ware re released it's classic pan.
Spreading the Word About the Bundt
In 1960, the Good Housekeeping Cookbook showed how to bake a Pound Cake using a Bundt Pan. More women began to buy them for their kitchens.
Tunnel of Fudge- The Cake that Lit the Fuse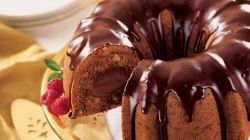 Every year since 1949, the Pillsbury Bake Off contest brought together women from all over the country to show off their stuff in the kitchen. In 1966, Ella Helfrich used a Bundt Pan to bake her 'Tunnel of Fudge' cake for the bake off.
SHE WON! (2nd Place)
Within days, Nordic Ware was inundated with over 200,000 requests for the pan with the hole in the middle. Everyone wanted a Bundt Cake Pan. (Find the Tunnel of Fudge Cake Recipe here)
The Bundt Finds Its Spot in the Kitchen
Recipe books and magazines began publishing recipes specifically or the new Bundt Pan.
They were the perfect cake…. easy to make, versatile, good enough for company, and good for family. The perfect cake for a gathering of friends… or for the kid's after school snack.
Added bonus… the Bundt Cake sort of decorated itself. You didn't have to create frosting or pipe elaborate designs on the cake, just a simple glaze, or a dusting of powdered sugar and done.
Can you just imagine a 60s hostess getting ready for a club meeting with the "girls"… frilly apron on…. and a bundt cooling on the rack.
Bundt Cake Recipes Scratch
Lemon Blueberry Bundt Cake Recipe
Cardamom Walnut Bundt Cake Recipe
Pumpkin Ginger Mini-Bundt Cake Recipe
Marble Bundt Cake- Marmorkuchen
Bundt Cake Pans Classic
 Nordic Ware Pro Form Anniversay Cake Pan, 12 Cup

 Nordic Ware Platinum Collection Original 10- to 15-Cup Bundt Pan

 Baker's Secret 1114421 Essentials Fluted Tube/Bundt Pan

 Farberware Nonstick Bakeware 10-Inch Fluted Mold

Bundt Cake Pans Different Designs
(Fair warning… Use LOTS of butter or spray to lubricate these pans… it is frustrating to get cake stuck in the intricate patterns)
 Nordic Ware NW Jubilee Bundt Pan 88337

 Nordic Ware Pro Cast Bavaria Bundt Pan

 Nordic Ware Non-Stick Cast Aluminum Fleur De Lis Bundt Pan

 Nordicware 80537 Bundt Squared Pan, Silver

 Nordic Ware Platinum Rose Cast Aluminum Bundt Pan

 Nordic Ware 87537 Blossom Bundt Cake Pan

 Nordic Ware 55548 Cast-Aluminum Elegant Heart Bundt Pan

 Nordic Ware Platinum Collection Heritage Bundt Pan, Garden, Lawn, Maintenance

Christmas Bundt Cake Pans
Nordic Ware Holiday Bundt Tree Pan

Polymerose Silicone Cathedral BUNDT Baking PAN – 8 Cups, 8.5

Nordic Ware Holiday Wreath Pan

Silicone Mini Bundt Cake Pan
I love Minis as a nice alternative to Cupcakes! And the Silicone pans are easy to use, and get the cake out of!
 Impressive Mini 20-Cavity Bundt Savarin Cake Pan Mould Silicone Mold Baking Mould

 Bakerpan Silicone Mini Bundt Cake Pan, 4 3/4 Inch Mini Cake Mold

 X-Haibei Donut Chocolate Ice Cream MINI Bundt Cake Pan Silicone Mold Bakeware

 Freshware SM-109RD 8-Cavity Silicone Mini Bundt, Coffe Cake, Muffin, Cupcake, Brownie and Cornbread Mold

Looking for a Mini Bundt Cake Pan Recipe?
Pumpkin Ginger Mini Bundt Cakes